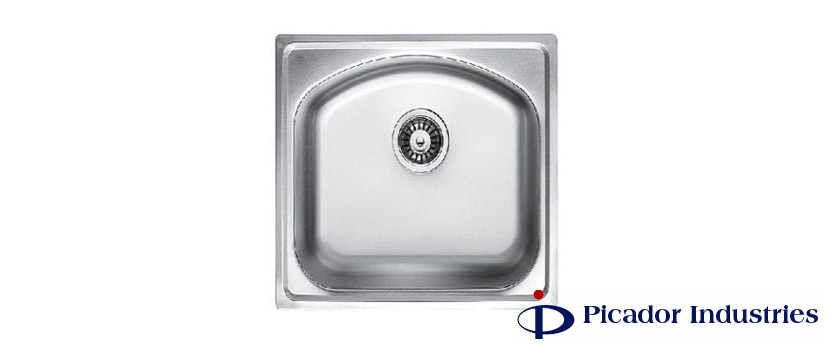 Kitchen is the most functional area of the house and everyone will agree to this. Numerous tasks are done in the kitchen like cooking, preparing tea or coffee, washing your dishes, and much more. Thus, bit important that people should choose things wisely in the kitchen so that you do not have to comprise with the performance and quality of the product. Thus, one of the most important things in the kitchen is the sink.
There are different types of sink available in the market. Like sinks made of different models, sizes, materials, and types. If you are planning to get a new sink, you will come across sinks made of different materials. Though stainless sinks are the best. They are a popular choice of homeowners across the world. So let's see the reasons why they are so famous and people want these in their kitchen.


• Durable
Stainless steel is a durable material that is found all over the world. Therefore it is obvious that people will choose stainless steel kitchen sinks in their kitchen. These sinks are tougher and harder than any other kitchen sink also it is highly resistant to cracking, chipping, and also premature wear. So choose the best kitchen sink from the best stainless steel kitchen sink dealers.


• Affordable
One of the major factors that people consider while choosing a kitchen sink is the price. The money that you save on the kitchen sink can be utilised into something else like kitchen decor. The stainless steel kitchen sinks cost lesser than the sinks made of other materials like granite, cast iron, porcelain, and quartz. Also, when you see how durable and low maintenance product these are you would certainly realise that on these sinks you can save a good amount of money.


• Easy Maintenance And Cleaning
Hygiene is extremely important in the kitchen. This is because we prepare food in the kitchen for the family. Thus, one should maintain hygiene and clean the kitchen often so that it doesn't affect the well-being and health of your family. Talking about cleanliness, the stainless steel sink is above the sinks that are made from different materials. Stainless steel sinks are easy to maintain and easy to clean than any other sink. Also, these sinks are stain-proof so it doesn't have bacteria or germs as well. Thus, buy a good quality sink from the stainless steel sink manufacturer in your country.


• Corrosion-free
The biggest enemy of most metals is corrosion. Thus, corrosion is a serious threat to the kitchen sinks that are made of different metals. Unlike other metals, the sinks made of stainless steel is resistant to corrosion. Therefore, one of the biggest advantages of getting a stainless steel sink is that it cannot corrode like any other metal.


• Bigger Bowls
Size is one of the important factors that one should consider while purchasing a sink. The stainless steel is light but the properties are much stronger than any other metal, therefore it can be used to make deep and large bowls than the kitchen sink made of other materials like graphite, cast iron, etc.


• Eco-Friendly
All around the world, the popularity of eco-friendly products is rising. The stainless steel is a recyclable metal which is excellent for the eco-friendly product in your kitchen sink. It neither degrades nor lose any of its properties during the process of recycling and thus stands as a great green option.



These were some of the advantages of getting a Stainless kitchen sink from a popular stainless steel supplier. They look stylish and are extremely functional in your kitchen and thus it is an excellent choice for the kitchen with designed decor.