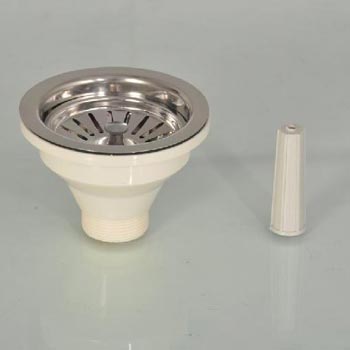 While constructing a house you give most importance to the kitchen. It is the place where you will get all your energy for life. So, it should be well constructed. There are various parts of a kitchen oven, grills, sink, cupboard and more. Kitchen sink comes as the primary accessory.
A spacious sink, which can clatter least, while washing, and let water pass through it; is ideal for any kitchen. The sink is a very important part of the kitchen.
So, you should know, how and why to buy kitchen sink materials.
Sink Materials for Kitchen
Granite Composite

Cast Iron

Fireclay

Single Bowl

Double Bowl

Natural Stone

Quartz

Solid Surface

Copper

Farmhouse (Apron Front)
Top Mount- This style of the kitchen sink is designed to be dropped into a hole in your countertop
Under mount- An under mount sink is mounted underneath the counter
How to choose the best sink material for your kitchen?
Sink Material: Stainless Steel is still the best choice for most of the home-makers. These steel sinks are heat and stain resistant. They are also available in a variety of types, styles, and sizes to suit different kitchen requirements.
Number of Bowls: Generally, for small spaces, single-bowl kitchen sinks are ideal. You can choose large sinks for spacious cleaning and soaking pots and pans. There are different sections in double/ triple sinks which feature a divider along the midsection to create distinct work areas. This sink is designed to give separate workspaces for soaking, cleaning or rinsing
Size / Depth of Bowls: Check properly the sink depth. Deeper bowls are great for soaking pans, but they require more under-cabinet space. Consider how much room you'll need for plumbing and disposers housed beneath the sink and choose accordingly. When selecting a sink with multiple basins, consider the depth of the deepest basin and how your base cabinet will accommodate plumbing
Compatibility with Accessories
You should check the number of holes in the sink if you want to determine the type of accessories it can handle. Different types of sinks come with different shapes starting from oval, round, to rectangle.
Why take kitchen sink from the dealers?
They will offer you comparative cost

They will also suggest you the uses and applications of different types of sinks

The kitchen sink dealers will ensure fast and timely delivery of kitchen sink material

They will offer quality material

The dealers offer the certified materials tested on the best manufacturing parameters