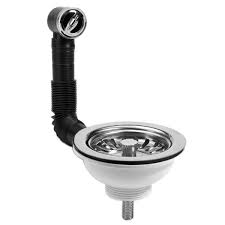 Buying kitchen sinks for your home doesn't have to be expensive, nor does it have to take weeks of research. The main aspects of buying a new kitchen appliance are quality and style. Also, kitchen sink waste fittings are an important factor to consider. If you manage to have everything then you won't waste time trying to fit the basins into an impossible counter or end up having to replace them in a few months after blocking or staining starts to appear.
Where is it installed?
This unit is a modern and affordable kitchen sink fittings. It offers a new way to manage waste in the kitchen sink. It is connected under the kitchen sink and then fixed to the drain.
How do they work and what is best?
There are two types of waste disposal units. Both will fit directly to the kitchen sink to give an easy waste removal from the sink.
The first type, and most common, is the continuous feed unit attached upon the hose. This type of unit will allow you to remove food waste or other garbage directly while it is running.
The second type is called a waste fitting that is batch based. This type of unit will let you add an amount of waste to the unit. It will then lock down the sink waste. Normally when the sink waste has been sealed down the unit will only then start to function.
Installation -
Most disposal units are suitable for connection to a sink with wide enough waste outlet.
A waste fittings unit can be a great addition to your kitchen sink. It is extremely important that the installation of such a unit should be carried out by a qualified plumber only to ensure precision.
Care and Maintenance -
Cleaning your kitchen sink waste fittings is quick and easy. Firstly, the best way to ensure that the garbage disposer is kept clean is to always rinse a little cold water through after any waste product has been processed. Merely leave the waste disposer on and let the cold water run through for a few seconds.
Maintenance is also simple. You do not have to worry to maintain your disposal. Simply run some baking soda and vinegar through it weekly to keep it smelling fresh, and feed it some ice cubes every so often to keep the impeller sharp.
Benefits of using this fitting -
• Avoid blockage
• Maintain hygiene
• Save the time of cleaning kitchen
• good for the environment, your kitchen and your plumbing
To meet various kitchen and sink styles, you can select one among various waste fittings of different designs. There are numerous suppliers of kitchen sink waste fittings. However, you need to find the highly rated suppliers that possess the following features:
1. bring forth durable and sturdy products to cater to the needs of various industries
2. strongly follow ethical business practices and fair trade policies
3. does regular inspection of all products by eminent quality analysts
4. deliver on time flawless products
5. has created a space for itself in the International market with its qualitative products