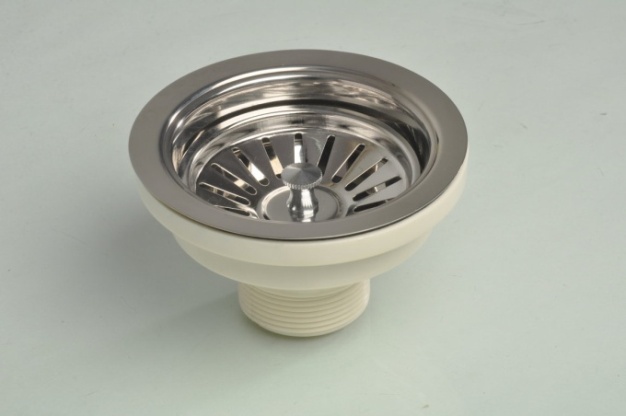 For a perfect kitchen set up kitchen sink plays a vital role. From washing hands to cleaning utensils and vegetables every single time kitchen sink comes into play. These days kitchen sinks come in a lot of varieties, sizes and materials.
Kitchen Sinks Available In The Market: Various types of steel kitchen sinks are available in the present market. But you need to select the right one as per your space in the kitchen compatibility. So majorly used and popular stainless steel sinks are discussed briefly below:
• Double Bowl Dustbin Kitchen Sink: This kitchen sink comes with a pre-installed fruit basket, square waste coupling and PVC double bowl connector. Bowl's collar thickness is said to e 2.5m.m with 1mm of bowl thickness.
Both the bowl comes with a dimension of 17 by 16 by 10 inches so that water can get drained easily and quickly.
• Single Board Square With Drainboard Kitchen Sink: One of the most popular and demanding kitchen sinks in the Indian Market. This stainless steel kitchen sink comes with a single bowl with a drainboard. For resisting corrosion and rusting this kitchen sink comes with a thickness of 1mm.
5 Points To Keep In Mind Before Purchasing A Kitchen Sink: Do consider the following fives points below before buying a stainless steel sink for your kitchen.
Gauge Or Thickness of The Material: Usually "Gauge" or the thickness of the stainless steel metal for the kitchen sink. Ranges are generally between 16 to 22 gauge. 16 gauge is the thickest among all. So always opt for high-quality stainless steel sinks. Stainless steel sink manufacturers generally use a gauge range between 16-18.
Grade Of The Stainless steel: For a perfect kitchen sink grade plays a crucial role as well. 18/8 label on the stainless steel sinks denotes 18% of chromium and 8% of nickel. The higher the percentage of chromium and nickel, the higher the quality of stainless steel would be. Primarily 304 Grade is regarded as the best grade for kitchen sinks.
Insulation And Coating: To reduce the noise or soundproof stainless sinks are usually covered with sound insulating coatings or covers. Coatings also help to reduce the moisture under the sink. So always do check coatings or insulations for extra add -ons.
Sink Finish: A mirror finish polished look is usually makes attractive, appealing and smooth for a perfect stainless steel sink. You can also opt for a matte finish for a brushed look other than smooth and glossy for your kitchen sink.
Drain Placement: It is one of the key points you need to consider while purchasing a stainless steel kitchen sink. Some assemblies come with drain baskets and some do not. A rear drain to the left or right can help to handle a pile of dishes easily without water clogging issues.
Stainless steel sinks come with various advantages like affordability, ease of maintenance, longevity etc. Do a proper consultation with your interior designer for a perfect stainless steel sink match for your dream kitchen. And also do consider the 5 points mentioned above before buying a kitchen sink.